Having duplicate client profiles reduces productivity. The client folders can be linked to multiple profiles, so whichever client profile you retrieve, the Statistics tab may not show you the full list of the client folders. The client's additional information (passport details, interests, etc) could be stored across multiple profiles, making it quite challenging to find the profile with the most up-to-date additional information.
Fear not! Dolphin has the solution. You just need to appoint a staff member to perform an administration task on a regular basis. The first tidy up might take a while, but once the backlog is cleared it will be a simple task to perform, executed as often as you deem necessary.
In the BMM, go to Options > Access Profiles > Security Profiles > search for and retrieve the security profile associated to the user that will perform this tidy up task > go to the Access/Updates tab > in the Data column select the Edit Client and Move Records checkboxes > select OK to save these changes to the security profile.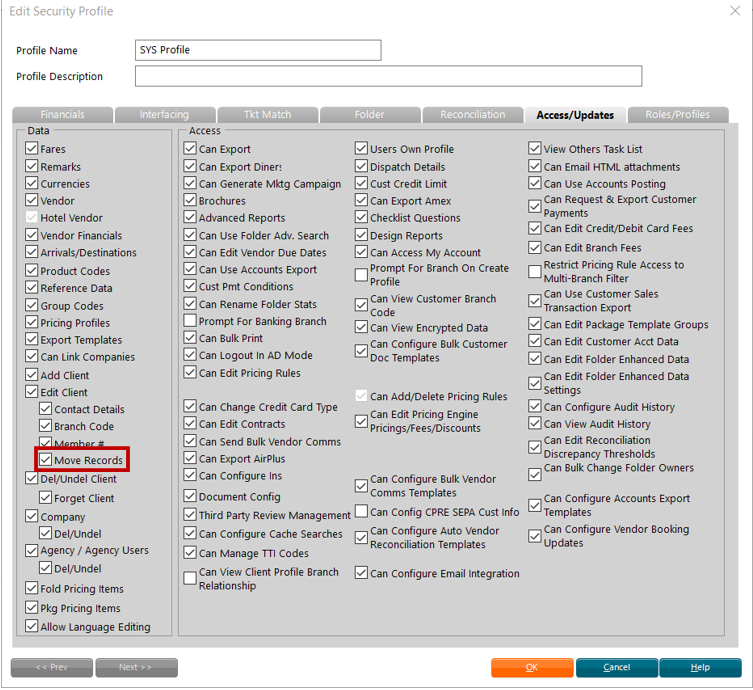 The Move Records setting allows users to merge two client profiles so that you can keep only one and delete the others.
The user with permission to move records, can then run a client search and display all the duplicate client profiles in the client Search Results grid as per below example:

In this example, there are 3 profiles for the same person. The contact details and address are not available in the 3 profiles. However, each profiles has at least one folder linked to.
To merge 2 profiles into 1, follow these simple steps:
Retrieve the client profile you wish to merge into one of the other 2 (in my example, I'll start with the first record):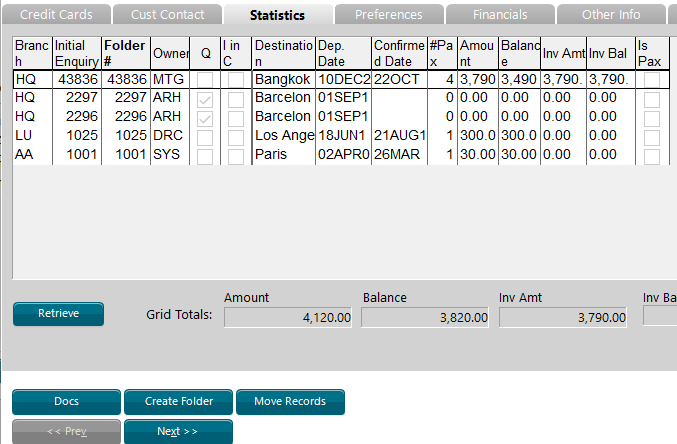 Select the Move Records button.
You will be prompted with the initial Search Results grid for you to select the profile to merge the other profile into:

In this example, I selected the second record because it has a telephone number and then select the Use button. The below warning displays: select OK to proceed with the merge or Cancel to stop the merge.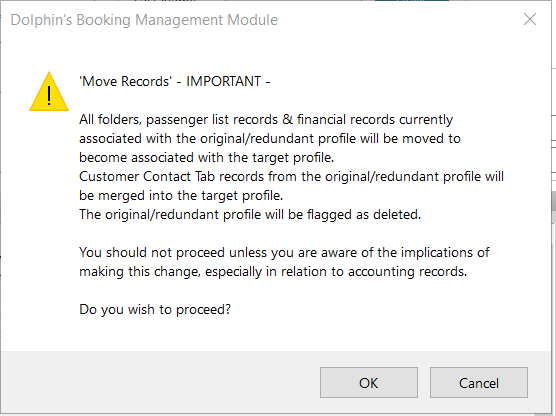 Once you select OK, the folders linked to the first client profile will be moved across. After this, the first client profile will be automatically deleted.
In my example, I still have 2 duplicate profiles so I'll follow the same steps to merge these profiles. Once I complete this process, the only profile which is not deleted will show me the full list of all the folders that were previously linked to the deleted profiles: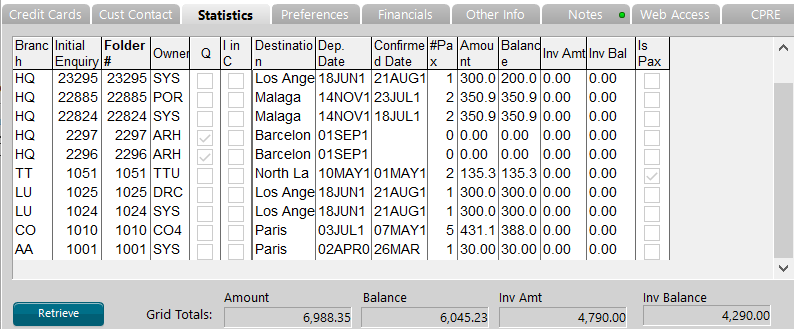 IMPORTANT NOTE: this feature only allows you to move records from one folder to another. The client contact information will need to be manually updated. However, although the duplicate client profiles have been deleted, they can still be retrieved and information can be manually copied across.