The Bulk Customer Documents functionality allows you to email multiple customers at one time, based on specific customer profile and/or folder criteria.
The scheduler runs 24 hours a day meaning that you can contact customers at a time that suits you best rather than just during normal business hours where it might not be the optimal time for customers to action the email that you are sending.
Bulk Customer Documents allow you to send to your customer the following document types:
Quotations
Booking Confirmations
Custom letters
Itineraries
Invoices
You can create different templates for each job and use mail merge tags to ensure that the message to the customer is correct and personalised.
Bulk Customers Documents are typically, but not exclusively, used for invoicing, deposit and balance reminders, and welcome home letters.
If you are working in an invoicing, rather than cash sales environment you can automatically invoice your customer, based on specific criteria, allowing invoicing to happen at a specific time, or date but only for uninvoiced bookings which meet the criteria defined by you.
If you issue invoices for your customers, you can use this functionality in a few different ways:
To issue invoices based on criteria defined by you
To issue invoices based on criteria defined by you AND email the customer at the same time
To email already issued invoices to your customers at a set time (for example, at month end)
For deposit and balance reminders you can send a custom letter, or an alternative version of the booking confirmation advising the customer what their outstanding amount is and when it is due.
By targeting the due date you can send various types of notification at specific periods before the deposit and/or the balance are due, allowing you to focus your time on the bookings which need intervention.
You can also follow up with customers post-holiday, in a timely manner, targeting specific customers by return date, destination or budget of choice.
It is possible to automatically update the folder status on completion of a bulk document task, allowing you to manage your workflows more efficiently.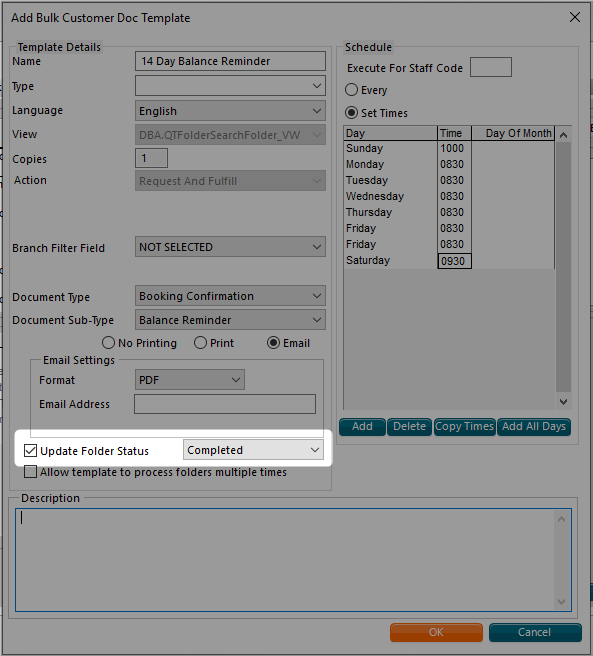 Finally, are you concerned that some emails will be missed? The bulk operations log report allows you to monitor all your scheduled jobs and can alert you if there have been any issues stopping the job running, i.e. missing emails etc.