When emailing customer-facing documents from within a Travel Folder it is possible to configure "mail merge tags" in the Document Setup area.
This will enable you to automatically include some folder/customer level information such as: Folder Number (fig.1), Folder Destination (fig.2) and Customer Name (fig.3) in the Footer Text section; plus email subject line, default email body and the default attachment name - all bringing a more personalised feel to your customer documentation.
Example: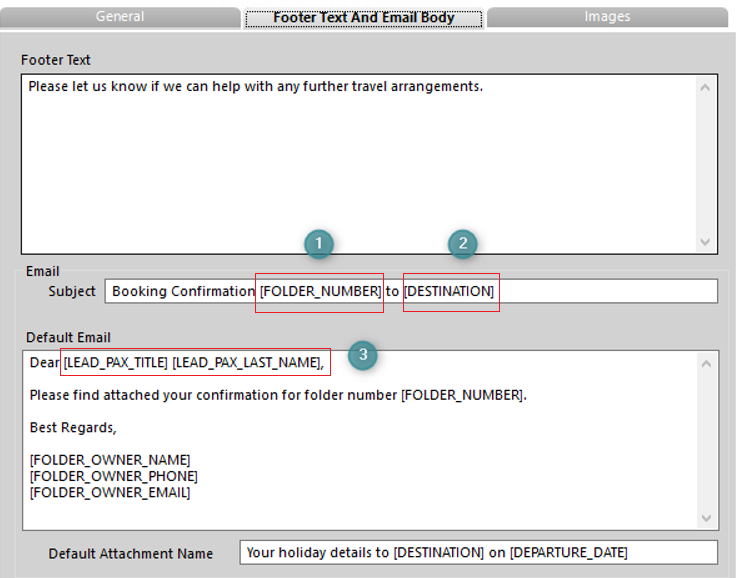 This is supported on the following document types.
Customer Booking Confirmation
Customer Itinerary
Customer Receipt
Customer Invoice
Customer Credit Note
Customer Refund
Below is a list of the supported tags:
[BRANCH_CODE]
[BRANCH_NAME]
[BRANCH_PHONE]
[BRANCH_EMAIL]
[CUSTOMER_TITLE]
[CUSTOMER_FIRST_NAME]
[CUSTOMER_NAME] This will be the last name for a client, the company name for a company or the agent's name for an agent.
[COMPANY_NAME]
[FOLDER_NUMBER]
[LEAD_PAX_TITLE]
[LEAD_PAX_FIRST_NAME
[LEAD_PAX_LAST_NAME]
[DESTINATION]
[DEPARTURE_DATE] This will be the folder departure date
[PROJECT_NO]
[FOLDER_OWNER_NAME]
[FOLDER_OWNER_PHONE]
[FOLDER_OWNER_EMAIL]
[FOLDER_BOOKED_BY]
[FOLDER_BALANCE_AMT]
[FOLDER_DEPOSIT_AMT]
[FOLDER_BALANCE_DUE_DATE]
[FOLDER_DEPOSIT_DUE_DATE]
[FOLDER_SELL_CURRENCY_CODE]
[FINANCIAL_TRANSACTION_NUMBER] This can be used for Invoice, credit notes, receipts, and refunds
[PRINTED_DATE]
If you have any queries please contact support@dolphind.com.