| | |
| --- | --- |
| Affected Areas: | User security profile and BMM folder tabs |
| Useful For: | All BMM users |
| Introduced In: | 17.6.79 |
| Feature ID: | 150693 |
Summary of Feature
You can now customise the itinerary tab display in Booking Management Module (BMM) folders
Dolphin folders have always contained the following itinerary tabs in a set order:
Air
Ticket
Hotel
Car
Tour
Rail
Cruise
Insurance
Other
It is now possible to choose which itinerary tabs to display, as well as the order in which to display them.
In the Folder tab of the Edit Security Profile page, there is a new section labelled Itinerary Tab Positions: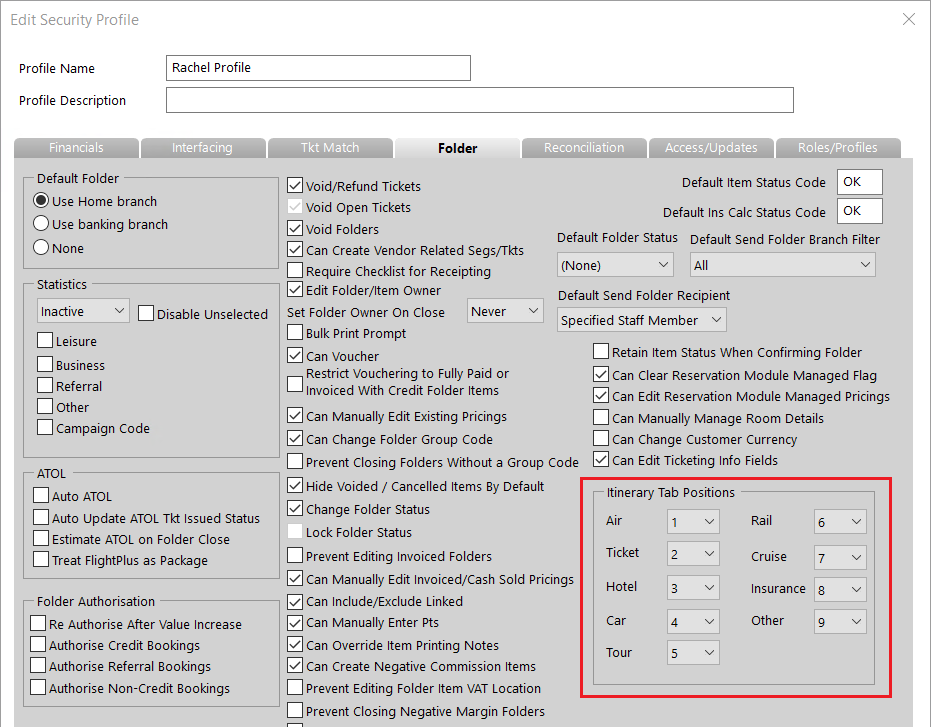 The above will be the default configuration for all existing and new security profiles after the upgrade.
You can choose the display order of the tabs, and hide tabs that are not relevant by selecting the applicable value from each itinerary tab drop-down: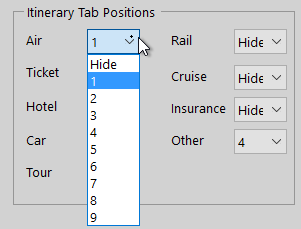 The numeric value will determine the order in which the tabs are displayed, so the following configuration: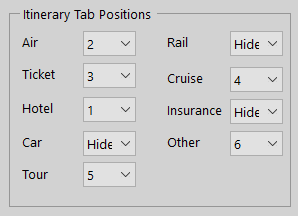 Will result in the following tab display order in a new folder:

When opening existing folders that contain an itinerary item that is flagged to be hidden (e.g. a Car segment added by another user), the Car tab will be displayed and you will be able to add new items to it.
If an existing folder contains a cancelled or voided itinerary item type that is now 'hidden', the tab will not be displayed, but all actions related to the cancelled/voided item will still be displayed in the folder's History tab.