| | |
| --- | --- |
| Affected Areas: | Branch details & folder pricing descriptions |
| Useful For: | All Booking Management Module users |
| Introduced In: | 17.6.69 |
| Feature ID: | 150693 |
Summary of Feature
You can speed up the process of manually adding items to a Booking Management Module (BMM) folder by configuring default pricing descriptions that will be auto-inserted when the item is added.
The configuration settings, labelled Default Pricing Config, can be found in the General 2 tab of Branch Details:
You can enter a free text description, or use the Lookup functionality to search for a pre-existing pricing description.
When populated, a pricing line with the configured description will be auto-added whenever the corresponding item type is added to the BMM folder: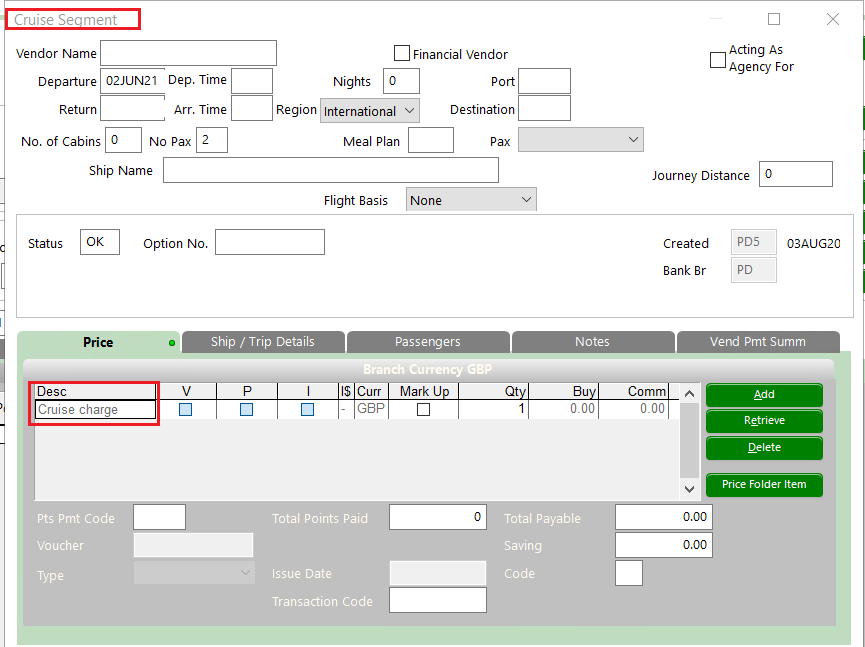 If left blank, no pricing line will be auto-added to new items.
When processing a booking from the reservation module or via booking import, these default pricing descriptions will be ignored because they should already contain pricing(s).
The Def Qty Of 1 checkbox allows you to set the default pricing quantity to 1 on HOT, TUR, CRU and OTH pricings.