| | |
| --- | --- |
| Affected Areas: | BMM folder; folder Passengers tab; Passenger Details dialog; Reports  |
| Useful For: | BMM customers wanting to store passport details within folders and extract API in a report format |
| Introduced In: | 20.044 |
| Feature ID: | 161247 |
With this feature BMM customers are able to:
Enter passenger related passport information.
Check what passenger has missing passport details and what data is missing.
Run a report with a passenger list per folder, including passport information (when this is present within the folder).
In the folder Passengers tab, the Passenger Details dialog now includes:
Middle Name and Email Address fields on the left hand side.
Passport Information section on the right hand side.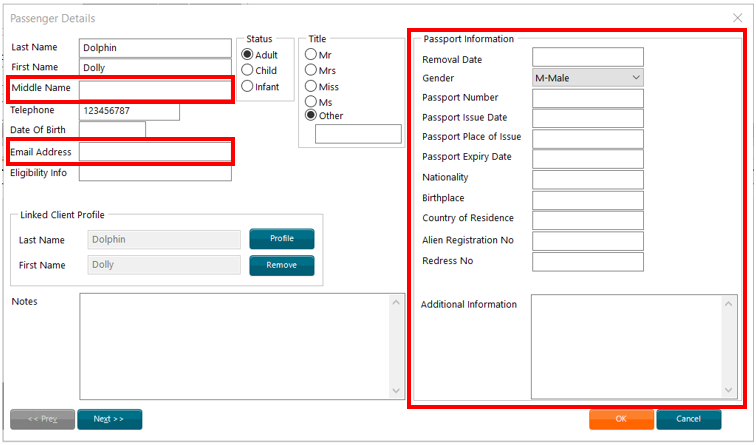 The Removal Date field in the new Passport Information section allows users to instruct the BMM to purge the passport data from the system on a specific user-defined date.
The Passengers tab shows an additional Passport Info column allowing users to determine if passenger related passport information exists in the folder.
If the Nationality AND Passport Number AND Passport Issue Date AND Passport Expiry Date fields have been ALL filled in, this column displays an X.
Otherwise, this column is empty.
A new report called Advance Passenger Information (API) Report is now available in Type 6 – Lists & Mailing Labels. This report shows the list of passengers per folder, including their passport information if present. The default report output shows these columns:

Finally, a new system setting called Remove Passenger Passports XXX Days After Folder Departure has been added to Options > System Settings > Edit System Settings dialog:

With this setting selected, all passport data stored within folder passenger records will be automatically purged from the BMM without any user intervention.
If users set a removal date within folder passenger records, and the new system setting is also configured, the earliest removal date will apply.