My Mail messages allow users to send and receive folder related messages. They can be used to ask a colleague to call back a customer or a supplier or to chase a specific action in relation to a quote or a booking. 
It is also possible to specify the date on which you want the My Mail message to appear in someone's Task List.
Open the folder and choose Send Folder from the Travel Folder menu or click the Send Folder icon with your mouse. 
Send your message as a Mail by selecting the appropriate radio button.
Select the person you wish to send the folder to. You can choose Specified Staff Member or Folder Owner in the Send To dropdown box.
Select either Folder or Individual folder items you are referring to, from the Relate message to dropdown.
Add your free text message for Mail messages and choose a Date on which you wish your folder to be received.
Select Message Priority (None, Normal or Urgent), and filter on Branch, Team and Group, which are optional.
Choose Send or Send and Close. On each command the Folder Sent pop-up window will appear. You can close it by clicking OK.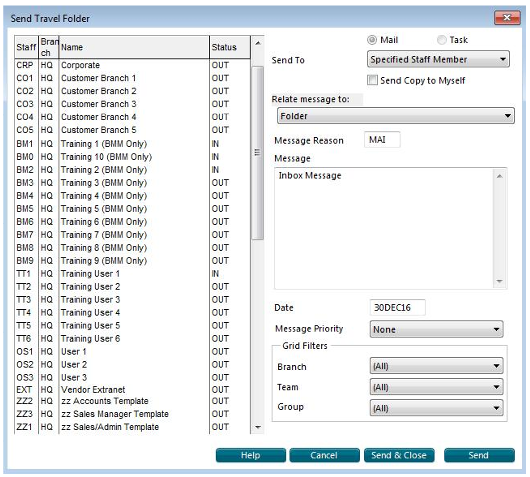 Depending on your BMM branch configuration, you will be able to delete My Mail messages once they have been read. The folder History tab will store a record of the message that was sent and when (if) it was deleted and removed from the task list.
To download the full guide on Task List functionality including "My Mail", sign in here .